38m Toldi Iia
Unit Card: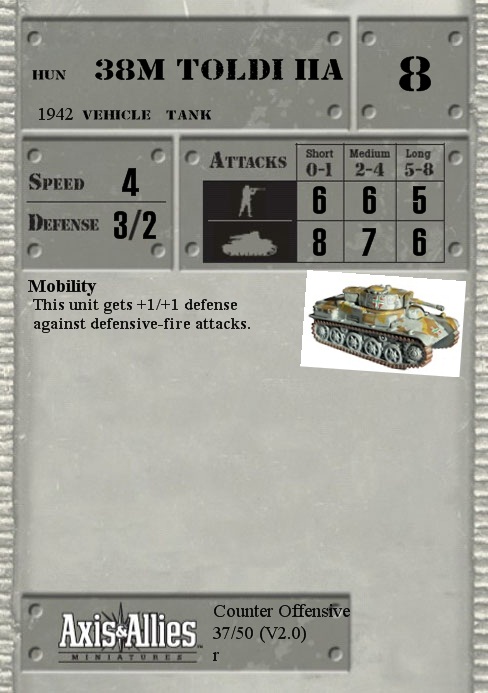 Set - Rarity - Number
Counter Offensive - Rare - 37/50
Historical Background:
During the early phase of World War two, in Yugoslavia and later during the ealy phase of the summer campaign against the Soviet Union, the Toldi showed excellent qualities. But later on, fundamental shortcoming quickly appeared, notably when facing the T34 and KV-1 tanks, the 20mm was proven inadequate and totally ineffective against their armor. From 1942 onwards, despite the arrival of the Toldi II, the Hungarian infantry also has to fight against a growing number of these Soviet tanks with the same increasingly effective anti-tank weapon, which led to proposals of reconversions and tactical shifting.
The Toldi II has only an increased frontal armor, to 30mm but was nearly indentical in many aspects. In all, 110 were made. Later on, the Toldi IIa introduced a 37M 40mm (licenced Bofors), L/25 anti-tank gun long caliber of high accuracy and muzzle velocity, with increased considerably their antitank capabilities. The tanks were further modernized in 1942, but the expected full upgrade never came out and instead consisted in replacing the 37M by the 42M main gun. At the Beginning of 1942 until April 1943, 80 Toldi II were upgraded as Toldi IIa. A logical step further was the next generation Toldi III, with a thicker armor (40mm glacis and mantlet) and the introduction of spaced armor. However, due to the deteriorating industrial conditions (and allied bombings), production came to a standstill and only 12 of the new 43M were delivered.
- Source: www.tanks-encyclopedia.com
Reviews:
Plastic Figure Notes:
page revision: 1, last edited: 17 Dec 2014 17:22