A 29 Kittyhawk
---
Allied Nations
---
Axis Nations
---
Neutral Nations/Installations
---
Sets
Unit Card: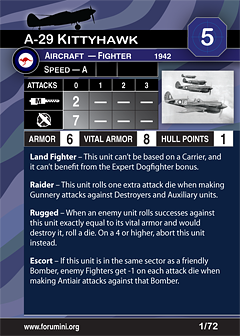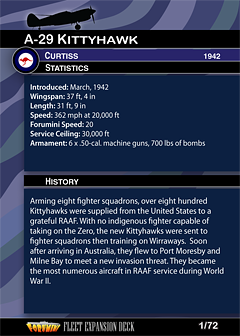 Set - Rarity - Number
First Strike - N/A - 1/72
History:
The Curtiss P-40 Warhawk was an American single-engined, single-seat, all-metal fighter and ground-attack aircraft that first flew in 1938. The P-40 design was a modification of the previous Curtiss P-36 Hawk which reduced development time and enabled a rapid entry into production and operational service. The Warhawk was used by most Allied powers during World War II, and remained in frontline service until the end of the war. It was the third most-produced American fighter, after the P-51 and P-47; by November 1944, when production of the P-40 ceased, 13,738 had been built,[4] all at Curtiss-Wright Corporation's main production facilities at Buffalo, New York.
Reviews:
Vergilius Powergaming Evaluation:
Positive feedback here. If you had to come up with a good way to reprint the P40, this would be it. We've replaced Interceptor with Raider, which might actually help against some fleet archetypes more than Interceptor. In unrestricted games, you've just got another option at 5 points. As a nation extender, it brings a UK+commonwealth build in touch with yet another solid fighter. Naturally scenario players can find all kinds of use for this unit. A
page revision: 4, last edited: 14 Mar 2020 16:53