Andrea Doria
---
Allied Nations
---
Axis Nations
---
Neutral Nations/Installations
---
Sets
Unit Card: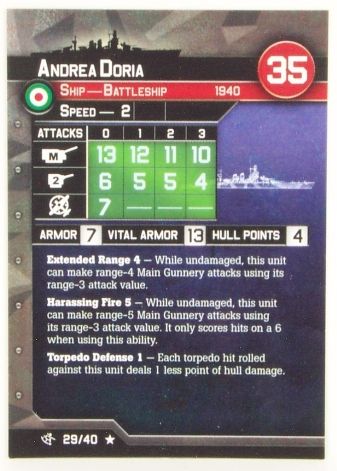 Set - Rarity - Number
Surface Action-
History:
Andrea Doria was the lead ship of her class of battleships built by the Regia Marina (Royal Navy). The class included only one sister ship, Caio Duilio. Andrea Doria was named after the 16th century Genoese admiral of the same name. Laid down in March 1912, the battleship was launched a year later in March 1913, and completed in March 1916. She was armed with a main battery of thirteen 305 mm (12.0 in) guns and had a top speed of 21 kn (39 km/h; 24 mph).
Andrea Doria saw no major action in World War I, and served extensively in Mediterranean in the 1920s and 1930s. She was involved in the suppression of rebels in Fiume and the Corfu incident in the 1920s. Starting in 1937, Andrea Doria underwent an extensive modernization, which lasted until 1940. She saw relatively little action during World War II; she was tasked with escorting convoys to Libya throughout 1941 and into 1942, during which she engaged in the inconclusive First Battle of Sirte. After the Armistice in September 1943 the ship was sailed to Malta and interned by the Allies. She remained there until 1944, when she was permitted to return to Italian ports. Andrea Doria survived the war and soldiered on in the post-war navy as a training ship until 1956. Paid off in September, she was formally stricken from the naval register on 1 November and sold for scrapping later that year.
Reviews:
Vergilius Powergaming Evaluation:
Reprint of the excellent Caio Dulio. Caio brought its own excellent SA that was hard to top: Cover Fire. Andrea Dorea keeps up the trend with Harrassing fire, which allows it to make Range-5 attacks that only hit on 6s while it is undamaged. This is excellent for picking off enemy cruisers early in the game, but like ER5 is probably trickier to use in practice. Excellent grade for originality. Powergaming Grade: B
Plastic Figure Notes:
page revision: 2, last edited: 17 Dec 2015 14:48