Belgium Officer
Unit Card: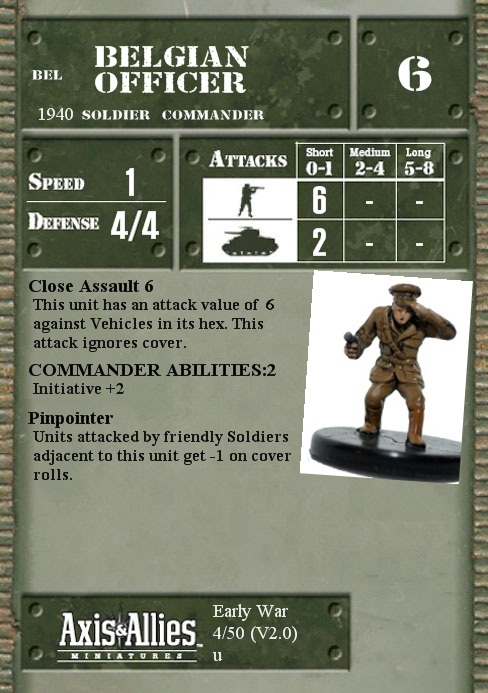 Belgium Officer-Cost 6-1940
Speed 1
Def 4/4
AI 6/-/-
AV 2/-/-
SA-Close Assault 6
SA-Initiative +2
SA-Pinpointer(Commander)
Set - Rarity - Number
Early War - Uncommon - 4/50
Historical Background
The Belgian plan, in the event of German aggression provided for:
A delaying position along the Albert Canal from Antwerp to Liège and the Meuse from Liège to Namur, which was to be held long enough to allow French and British troops to occupy the line Antwerp–Namur–Givet. It was anticipated that the forces of the guarantor Powers would be in action on the third day of an invasion.
Withdrawal to the Antwerp–Namur position.
The Belgian Army was to hold the sector–excluding Leuven, but including Antwerp–as part of the main Allied defensive position.
Reviews:
Plastic Figure Notes:
page revision: 3, last edited: 08 Nov 2014 17:28