Blucher
---
Allied Nations
---
Axis Nations
---
Neutral Nations/Installations
---
Sets
Unit Card: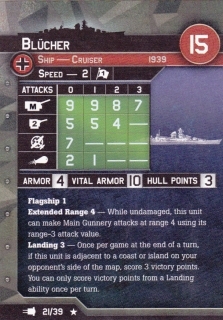 Set - Rarity - Number
Set V - Rare - 21/39
History:
Reviews:
anonymous
Another good German heavy cruiser, though Prinz Eugen might be slightly better. At 15 points, with AA7, ER4 and a flag for the sometimes flagship-challenged German navy, it's definitely worthy of consideration. The landing SA may make Blucher even more useful with Set VI's shore batteries.
Plastic Figure Notes:
page revision: 2, last edited: 25 Aug 2011 23:05