Breda Modello 37
Unit Card: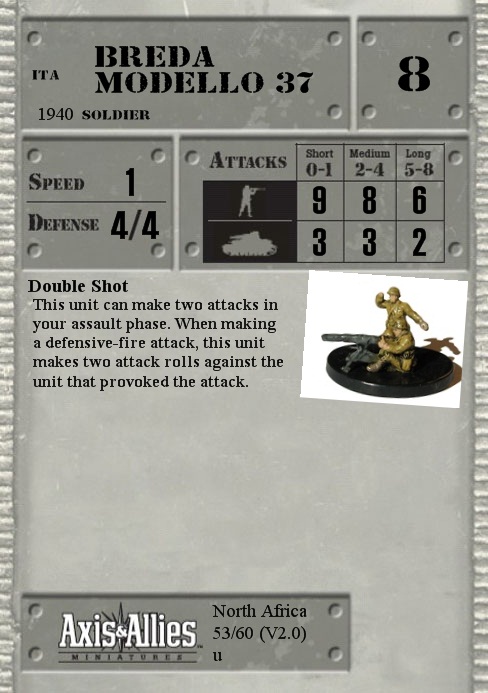 Set - Rarity - Number
North Africa - Uncommon - 53/60
Historical Background:
In service, the M37 and M38 Bredas proved to be fairly reliable heavy machine guns. Perhaps because the heavy support weapons received more attention from their crews, field reports were generally positive except for jams caused by desert sand and dust, which in the Western Desert affected all infantry machine guns to some extent. The M37 Breda's slow rate of fire helped prevent overheating during continuous fire, and its powerful, heavy-bullet cartridge had excellent range and penetration. Still, this machine gun was almost twice as heavy as the German machine guns and heavier than weapons like the M1919. In fact, it was the heaviest WWII 'light' machine gun, and unnecessarly complex to use and deploy. This was another issue for Italians, whose mobility was limited by their weak truck fleet. The tripod added around 20 kg to the complex, putting it at around 40 kilograms.
The weapon remained in first-line service with Italian forces throughout the war, and captured examples were used in combat by British and Commonwealth forces, including units of the SAS.
- Source: Wikipedia
Reviews:
Plastic Figure Notes:
page revision: 2, last edited: 06 Dec 2014 04:37