Churchill III
Unit Card: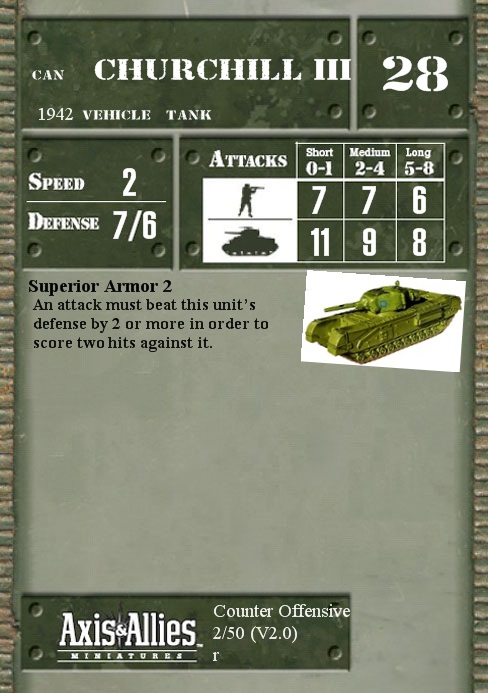 Vehicle - Tank
1942
28pts
Speed: 2
Defense: 7/6
AI: 7,7,6
AV: 11,9,8
SA - Superior Armor 2
Set - Rarity - Number
Counter Offensive, Rare, 2/50
Historical Background
The origins of the design lay in the expectation that war in Europe might be fought under similar conditions to that of the First World War and emphasized the ability to cross difficult ground. The Churchill was rushed into production to build up British defences against a possible German invasion. The first vehicles had flaws that had to be overcome before the Churchill was accepted for wide use. Production of the Mk III variant inclued a turret to carry the QF 6 pounder gun and began in 1941. The poor performance of the Churchill nearly caused production to be ceased in favour of the forthcoming Cromwell tank; it was saved by the successful use of the Mk III at the Second Battle of El Alamein in October 1942.
Reviews:
Plastic Figure Notes:Churchill III
page revision: 5, last edited: 08 Nov 2014 19:46