Conte Di Cavour
---
Allied Nations
---
Axis Nations
---
Neutral Nations/Installations
---
Sets
Unit Card: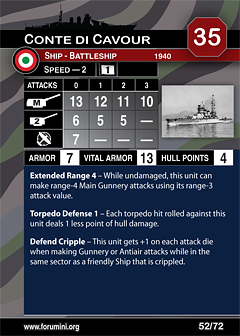 Set - Rarity - Number
First Strike - N/A- 52/72
History:
Conte di Cavour was the name ship of the three Conte di Cavour-class battleships built for the Royal Italian Navy (Regia Marina) in the 1910s. She served during both World War I and World War II, although she was little used and saw no combat during the former. The ship supported operations during the Corfu Incident in 1923 and spent much of the rest of the decade in reserve. She was rebuilt between 1933 and 1937 with more powerful guns, additional armor and considerably more speed than before.
Both Conte di Cavour and her sister ship, Giulio Cesare, participated in the Battle of Calabria in July 1940, where the latter was lightly damaged. They were both present when British torpedo bombers attacked the fleet at Taranto in November 1940, and Conte di Cavour was torpedoed. She was deliberately grounded, with most of her hull underwater, and her repairs were not completed before the Italian surrender in September 1943. The ship was then captured by the Germans, but they made no use of her. She was damaged in an Allied air raid in early 1945 and capsized seven days later. Conte di Cavour was eventually scrapped in 1946.
Reviews:
Plastic Figure Notes:
page revision: 1, last edited: 21 Aug 2015 06:50