Courbet
---
Allied Nations
---
Axis Nations
---
Neutral Nations/Installations
---
Sets
Unit Card: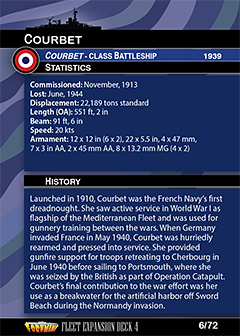 Set - Rarity - Number
Forumini D - N/A- 6/72
History:
Courbet was the lead ship of her class, the first dreadnoughts built for the French Navy. She was completed before World War I and named in honour of Admiral Amédée Courbet. She spent the war in the Mediterranean, helping to sink the Austro-Hungarian protected cruiser Zenta in August 1914. She spent the rest of the war providing cover for the Otranto Barrage that blockaded the Austro-Hungarian Navy in the Adriatic Sea. Although upgraded several times before World War II, she was not deemed to be a first-class battleship and spent most of the interwar period as a gunnery training ship.
Upon the German invasion of France, beginning on 10 May 1940, Courbet was hastily rearmed. She supported Allied troops in the defence of Cherbourg during June, later that month taking refuge in England. As part of Operation Catapult, she was seized in Portsmouth by British forces on 3 July and was turned over to the Free French a week later. She was used as a patrol vessel depot ship and an anti-aircraft ship there until 31 March 1941 when she was disarmed and hulked. Her engines and boilers were removed in 1944 to prepare her for use as a breakwater during the Normandy landings in June 1944. She was scrapped where she lay after the war.
Reviews:
Plastic Figure Notes:
page revision: 1, last edited: 08 Feb 2016 23:48