Deutschland Lutzow
---
Allied Nations
---
Axis Nations
---
Neutral Nations/Installations
---
Sets
Unit Card: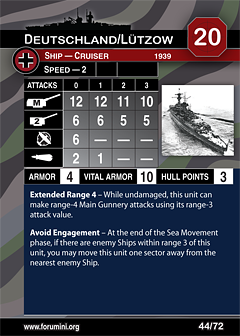 Set - Rarity - Number
First Strike - N/A - 44/72
History:
Deutschland was the lead ship of her class of heavy cruisers (often termed a pocket battleship) which served with the Kriegsmarine of Nazi Germany during World War II. Ordered by the Weimar government for the Reichsmarine, she was laid down at the Deutsche Werke shipyard in Kiel in February 1929 and completed by April 1933. Originally classified as an armored ship (Panzerschiff) by the Reichsmarine, in February 1940 the Germans reclassified the remaining two ships of this class as heavy cruisers. In 1940, she was renamed Lützow, after the Admiral Hipper-class heavy cruiser Lützow was handed over to the Soviet Union.
The ship saw significant action with the Kriegsmarine, including several non-intervention patrols in the Spanish Civil War, during which she was attacked by Republican bombers. At the outbreak of World War II, she was cruising the North Atlantic, prepared to attack Allied merchant traffic. Bad weather hampered her efforts, and she only sank or captured a handful of vessels before returning to Germany. She then participated in Operation Weserübung, the invasion of Norway. Damaged at the Battle of Drøbak Sound, she was recalled to Germany for repairs. While en route, she was torpedoed and seriously damaged by a British submarine.
Repairs were completed by March 1941, Lützow returned to Norway to join the forces arrayed against Allied shipping to the Soviet Union. She ran aground during a planned attack on convoy PQ 17, which necessitated another return to Germany for repairs. She next saw action at the Battle of the Barents Sea with the heavy cruiser Admiral Hipper, which ended with a failure to destroy the convoy JW 51B. Engine problems forced a series of repairs culminating in a complete overhaul at the end of 1943, after which the ship remained in the Baltic. Sunk in shallow waters in the Kaiserfahrt in April 1945 by Royal Air Force (RAF) bombers, Lützow was used as a gun battery to support German troops fighting the Soviet Army until 4 May 1945, when she was disabled by her crew. Raised by the Soviet Navy in 1947, she was subsequently sunk as a target in the Baltic.
Reviews:
Vergilius Powergaming Evaluation:
New SA helps keep enemy swarms at range-3 so that you can more easily destroy them. In practice, this may or may not be worth as much as the extra die that you get on Scheer, though the destroyer-killing theme is present nonetheless. Oftentimes, you need to move toward the objective to contest or claim it, and retreating isn't going to help all that much. In short, if you want to use this unit over Scheer, then you're going to have to be more careful with your design so that you don't end up trapped into moving forward when you'd rather be using this SA. Overall grade: C
page revision: 2, last edited: 10 Jul 2015 22:59