Emden
---
Allied Nations
---
Axis Nations
---
Neutral Nations/Installations
---
Sets
Unit Card: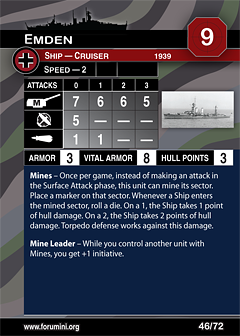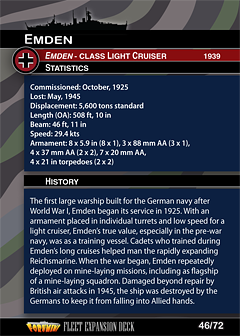 Set - Rarity - Number
First Strike - N/A - 46/72
History:
Emden was a light cruiser built by the Reichsmarine in the early 1920s. She was the only ship of her class and was the first large warship built in Germany after the end of World War I. She was built at the Reichsmarinewerft in Wilhelmshaven; her keel was laid in December 1921 and her completed hull was launched in January 1925. Emden was commissioned into the German fleet in October 1925. Her design was heavily informed by the restrictions of the Treaty of Versailles and the dictates of the Allied disarmament commission. She was armed with a main battery of surplus 15 cm (5.9 in) guns left over from World War I, mounted in single gun turrets, as mandated by the Allied powers. She had a top speed of 29 knots (54 km/h; 33 mph).
Emden spent the majority of her career as a training ship; in the inter-war period, she conducted several world cruises to train naval cadets. At the outbreak of war, she laid minefields off the German coast and was damaged by a British bomber that crashed into her. She participated in the invasion of Norway in April 1940, and then resumed training duties in the Baltic Sea. These lasted with minor interruptions until September 1944, when she was deployed to Norway to serve as the flagship of the minelaying forces there. In January 1945, she carried the disinterred remains of Paul von Hindenburg from East Prussia to Pillau, to prevent his remains from falling into the hands of the advancing Soviet Army. While undergoing repairs in Kiel, Emden was badly damaged by British bombers and later run aground outside the harbor and was blown up. The wreck was ultimately broken up in 1949.
Reviews:
Vergilius Powergaming Evaluation:
When the forum asked about mine-usage earlier this year, the final word was anything after the first turn was too late. You just cannot use mines very well beyond the first turn and expect them to have a huge impact, or any impact on the game. So the key to Emden is more to be found in Mine Leader, which boosts your initiative by +1 if you control another unit with mines. There are plenty such units to be had. Otherwise, we've got typical CL gunnery, low AA and weak torpedoes, and a typical CL 3-8-3 frame. You're paying 9 points for an initiative boost that may in fact disappear due to the weakness of the Emden. One thought is to deploy it forward with S-H so that you're in position to mine on the first turn, but that's about the only way to mine an appropriate position on the first turn and requires a fairly specific build plan to get the most out of the Emden. Play with extreme caution. Overall grade: B
page revision: 1, last edited: 10 Aug 2015 15:37