F4F Wildcat
---
Allied Nations
---
Axis Nations
---
Neutral Nations/Installations
---
Sets
Unit Card: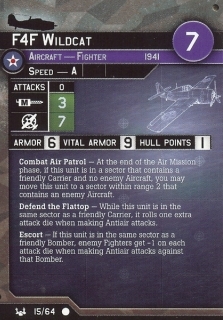 Set - Rarity - Number
War At Sea - Common - 15/64
History:
The F4F Grumman Wildcat was the main carrier fighter for the United States Navy for the early part of World War II. Compared to the enemy Zero, it was slower, and less maneuverable. However, it was well armed and armored, able to take devastating battle damage and still bring its pilot home.
Featured six 50 cal. guns, folding wings, and excellent armor protection.
A Lend-leased varient of the Wildcat, the Martlet Mk. II , flew off many British carrier decks and provided fighter cover during many operations, such as the first strikes on the German battleship Tirpitz and for conducting ASW patrols.
With the advent of the Hellcat, the F4F was redesignated the FM-1. (then finally the FM-2) This was the GM version of the Wildcat, and it found a new role aboard the Navy's escort carriers. The FM-2 featured a more powerful engine, enlarged rudder, and the reduction to four 50 cals instead of six as on the former F4F-4.
Reviews:
nrnstraswa
Good fighter, good for fleet defense in a US carrier build.
LuckyE77
The Wildcat is a solid fighter. However, it doesn't have the punch to be a interceptor for anything but a carrier. Pair it with a Yorktown she can be a force to be reckoned with.
Plastic Figure Notes:
page revision: 15, last edited: 08 Feb 2011 03:31