F4u 1d Corsair
---
Allied Nations
---
Axis Nations
---
Neutral Nations/Installations
---
Sets
Unit Card:
Set - Rarity - Number
Surface Action-
History:
nrnstraswa
The F4U-1D was a powerful aircraft. Refined from earlier Corsair models, this one could carry bombs, unguided rockets, drop tanks, and yet still handle well as a fighter. By this time, Corsairs were used aboard carriers in great numbers. Corsairs, usually of this type, are well known for being the front line defense against Japanese Kamikazes in late WWII.
The British also used D model Corsairs (designated as Corsair Mk IV) in 1945.
Reviews:
Vergilius Powergaming Evaluation:
I expect this to be the most controversial unit in the set. I've repeated elsewhere that I think the game skews at the higher (and lower) end of the power spectrum. Certain abilities simply cannot be put on a unit for any reasonable amount of cost. You do pay 14 points for this Corsair. As a bomber, it is a much lower dice amount than the 14 point Helldiver, and one point shy of the Dauntless, and the same dice total as the Judy. As a Fighter, the original AA9 was kept, but now it can receive Expert Dogfighter-2. Against fighters it will roll 13 dice for a 66% kill chance on VA-8 fighters, and 51% chance against VA-9 fighters. This is a small step up from the 12 dice Hellcat that requires a commitment of 4 more points. Additionally, potentially 11 dice AA is brutal against opposing aircraft, allowing a high vital percentage against most enemy bombers. Much like the Re.2001, which priced ok for a bomber, but not much for a fighter, the Corsair should be included with the primary intention to use its dive bombing qualities in a fleet where having an extra fighter or two could be quite useful as well. IN the game WAS which requires that a player anticipate many different fleet types from an opponent, quality units that can perform multiple roles are extremely valuable. The F4U might have the most to contribute to the Anti-KoD fleet where the Corsairs can function early as an anti-Kondor, and later as an anti-ship unit. I'm skeptical if this Corsair has much use in a 100 point fleet. 9 base dice can be pushed to 12 with EB2 and Shadowing, but against 10 armor BBs, you are unlikely to prevail consistently, as even the 14 dice Helldiver is something of a wash against a 10-16 BB at 100 points. You'd also need a way of handling subs, and after paying for 3-5 planes, there aren't normally enough points left over for this purpose. On the other hand, a few Corsairs can be an excellent addition at 200 points where you might want a few extra fighters, but the dive bombing qualities make them better against swarm style fleets. The year is 1944, so expect a lot of non-1944 games that exclude the Corsair. Powergaming Grade: A+
Plastic Figure Notes:
A reprint of the earlier F4U-1A sculpt.
MontyBurns1982
Paints up beautifully in USN or Royal Navy colours. A nice sculpt.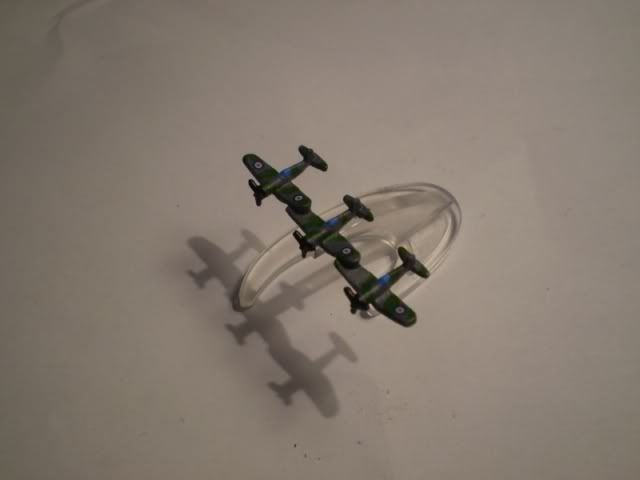 page revision: 28, last edited: 11 Jun 2013 01:36