Fubuki
---
Allied Nations
---
Axis Nations
---
Neutral Nations/Installations
---
Sets
Unit Card: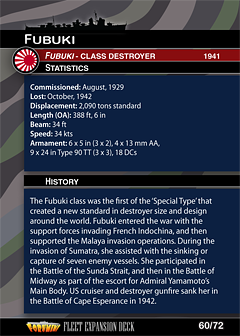 Set - Rarity - Number
First Strike - N/A- 60/72
History:
Fubuki (吹雪 "Blizzard"?) was the lead ship of twenty-four Fubuki-class destroyers, built for the Imperial Japanese Navy following World War I. When introduced into services, these ships were the most powerful destroyers in the world. They served as first-line destroyers through the 1930s, and remained formidable weapons systems well into the Pacific War. Fubuki was a veteran of many of the major battles of the first year of the war, and was sunk in Ironbottom Sound during the Battle of Cape Esperance in World War II.
Reviews:
Plastic Figure Notes:
page revision: 1, last edited: 07 Apr 2016 21:27