Fucile Modello 1891
Unit Card: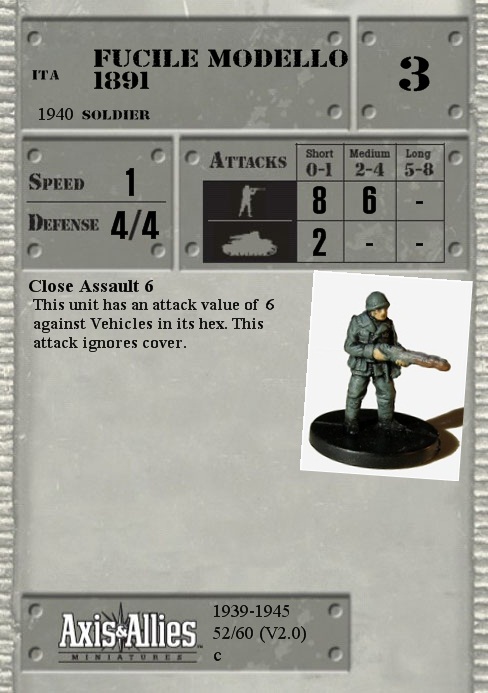 Set - Rarity - Number
Base Set - Common - 42/48
39-45 - Common - 52/60
Historical Background:
Carcano is the frequently used name for a series of Italian bolt-action military rifles and carbines. Introduced in 1891, this rifle was chambered for the rimless 6.5×52mm Mannlicher-Carcano cartridge (Cartuccia Modello 1895). It was developed by the chief technician Salvatore Carcano at the Turin Army Arsenal in 1890 and called the Model 91 (M91). Successively replacing the previous Vetterli-Vitali rifles and carbines in 10.35×47mmR, it was produced from 1892 to 1945. The M91 was used in both rifle (fucile, sing.; fucili, pl.) and carbine (moschetto, sing.; moschetti, pl.) form by most Italian troops during the First World War and by Italian and some German forces during the Second World War. The rifle was also used during the Winter War by Finland, and again by regular and irregular forces in Syria, Libya, Tunisia, and Algeria during various postwar conflicts in those countries.
- Source: Wikipedia
Reviews:
Plastic Figure Notes:
page revision: 3, last edited: 06 Dec 2014 04:12