Furutaka
---
Allied Nations
---
Axis Nations
---
Neutral Nations/Installations
---
Sets
Unit Card: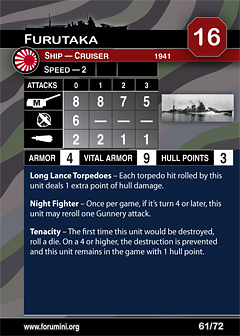 Set - Rarity - Number
First Strike - N/A- 61/72
History:
In late 1941, Furutaka was assigned to Cruiser Division 6 Rear Admiral Aritomo Goto in the First Fleet with the cruisers Aoba, Kako and Kinugasa. At the time of the attack on Pearl Harbor, the division was engaged in support for the invasion of Guam.
After the failed first invasion of Wake Cruiser Division 6 was assigned to the larger second invasion force, and after the fall of Wake, returned to its forward base in Truk, Caroline Islands.
From 18 January 1942, Cruiser Division 6 was assigned to support Japanese troop landings at Rabaul, New Britain and Kavieng, New Ireland and in patrols around the Marshall Islands in unsuccessful pursuit of the American fleet. In March–April, Cruiser Division 6 provided support to Cruiser Division 18 in covering the landings of Japanese troops in the Solomon Islands and New Guinea at Buka, Shortland, Kieta, Manus Island, Admiralty Islands and Tulagi from a forward base at Rabaul. While at Shortland on 6 May 1942, Furutaka was attacked by four Boeing B-17 Flying Fortresses, but was not damaged.
Reviews:
Plastic Figure Notes:
page revision: 1, last edited: 11 Oct 2015 18:47