Greek Mountain Infantry
Unit Card: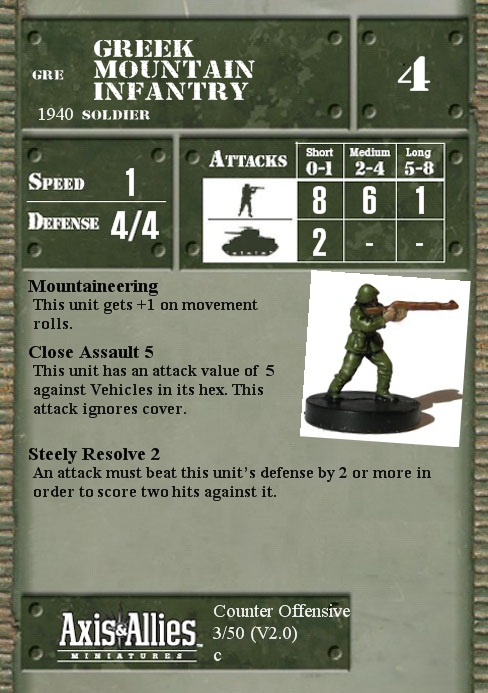 Soldier
1940
4pts
Speed: 1
Defense: 4/4
AI: 8,6,1
AV: 2,-,-
SA - Mountaineering
SA - Close Assault 5
SA - Steely Resolve 5
Set - Rarity - Number
Counter Offensive, Common, 3/50
Historical Background:
In 1940, just before the Italian attack, Greece mobilised her armed forces. The field army was organised in two Army Groups, six general headquarters, six infantry and nine mountain divisions, four mountain brigades and one cavalry division. The Greek armed forces, like most of those of the smaller nations, suffered from a shortage of modern weapons and motor transport. However, the mountainous frontier with Albania was ideal for defensive fighting, and the natural sturdiness of her soldiers proved too much for the Italian forces which invaded on 28 October 1940.
- Source ww2-weapons.com
Reviews:
Plastic Figure Notes:
page revision: 5, last edited: 11 Nov 2014 23:14