H8KI Type 2 Emily
---
Allied Nations
---
Axis Nations
---
Neutral Nations/Installations
---
Sets
Unit Card: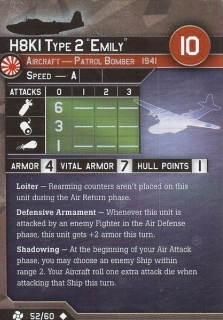 Set - Rarity - Number
Task Force - Uncommon - 52/60
History:
Reviews:
RaySpruance
If you are Japan and have land based aircraft, you must bring this (with an escort obviously) unit to the fight. While a vulnerable aircraft, it is great with the Shadowing SA. It can add some firepower to the Japanese air strikes. It also has Loiter and for personal defense, it has the Defensive Armament SA. At least against aircraft, she can hold her own. I certainly wouldn't use the air strikes with torpedoes or bombs, but for everything else, consider this a lethal aircraft.
Plastic Figure Notes:
page revision: 5, last edited: 07 Mar 2013 22:48