Hatsukaze
---
Allied Nations
---
Axis Nations
---
Neutral Nations/Installations
---
Sets
Unit Card: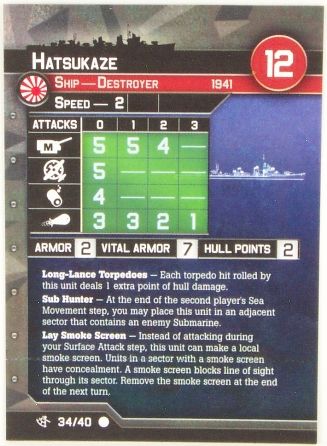 Set - Rarity - Number
Surface Action-
History:
Reviews:
Vergilius Powergaming Evaluation:
Subhunter and Smokescreen are among the 2 best destroyer SAs. 12 cost is pricey, but Japan needed another smoking destroyer. Essentially you have an Isokaze with Smoke. Still, most LL builds focus on the cheaper Murasame unless you absolutely need the guns for some reason. The guns are worth noting since allied destroyers can trade themselves for their more expensive Japanese counterparts at about 1:1, and being able to hit the opponent's destroyers more consistently can help the Japanese match-up in these builds. Powergaming Grade: C+
Thenaa123
As far as I'm conserned a mix of Shigure and Hatsukaze would be a very formidable foe. With Smoke Screen and Sub Hunter to put you on top of the sub It's hard to beat. With Shigure to add lucky escape you can escape the pain of getting there. It is the ultimate Sub killer and is a smart add to your fleets vulnerable carriers.
Plastic Figure Notes:
page revision: 3, last edited: 27 May 2013 19:48