HMAS Shropshire
---
Allied Nations
---
Axis Nations
---
Neutral Nations/Installations
---
Sets
Unit Card: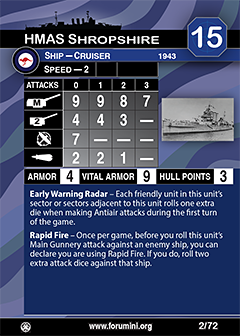 Set - Rarity - Number
Forumini D - N/A- 2/72
History:
HMS Shropshire was a Royal Navy (RN) heavy cruiser of the London sub-class of County-class cruisers. She is the only warship to have been named after Shropshire, England. Completed in 1929, Shropshire served with the RN until 1942, when she was transferred to the Royal Australian Navy (RAN) following the loss of sister ship HMAS Canberra. Commissioned as HMAS Shropshire, the ship remained in RAN service until 1949, and was sold for scrap in 1954.
Reviews:
Plastic Figure Notes:
page revision: 1, last edited: 07 Feb 2016 17:08