HMAS Stuart
---
Allied Nations
---
Axis Nations
---
Neutral Nations/Installations
---
Sets
Unit Card: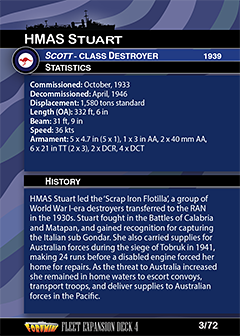 Set - Rarity - Number
Forumini D - N/A - 3/72
History:
HMAS Stuart (formerly HMS Stuart) was a British Scott-class flotilla leader. The ship was built by Hawthorn Leslie and Company for the Royal Navy during World War I, and entered service at the end of 1918. The majority of the destroyer's British service was performed in the Mediterranean, and in 1933 she was transferred to the Royal Australian Navy. Although placed in reserve in 1938, Stuart was reactivated at the start of World War II to lead the Australian destroyer force, nicknamed the Scrap Iron Flotilla by German propagandists.
The flotilla operated in the Mediterranean, with Stuart participating in the Western Desert Campaign and the battles of Calabria and Cape Matapan, defeating the Italian submarine Gondar, evacuating Allied troops from Greece and Crete, and serving with the Tobruk Ferry Service. The destroyer returned to Australia for repairs and refit in late 1941, and spent most of 1942 and 1943 in Australian waters. Stuart was modified into a stores and troop transport in early 1944, and operated in this role around Australia and New Guinea until early 1946. Stuart was placed in reserve in 1946, and was sold for ship breaking in early 1947.
Reviews:
page revision: 3, last edited: 07 Feb 2016 17:09