HMAS Vampire
---
Allied Nations
---
Axis Nations
---
Neutral Nations/Installations
---
Sets
Unit Card: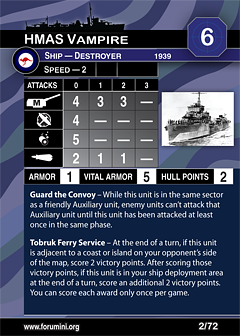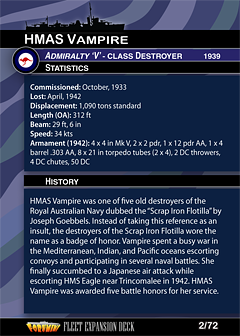 Set - Rarity - Number
First Strike - N/A - 2/72
History:
HMAS Vampire was a V-class destroyer of the Royal Navy (RN) and Royal Australian Navy (RAN). Launched in 1917 as HMS Wallace, the ship was renamed and commissioned into the RN later that year. Vampire was loaned to the RAN in 1933, and operated as a depot tender until just before World War II. Reactivated for war service, the destroyer served in the Mediterranean as part of the Scrap Iron Flotilla, and was escorting the British warships HMS Prince of Wales and HMS Repulse during their loss to Japanese aircraft in the South China Sea in December 1941. Vampire was sunk on 9 April 1942 by Japanese aircraft while sailing with the aircraft carrier HMS Hermes from Trincomalee.
Reviews:
Vergilius Powergaming Evaluation:
A mirror of the Tokyo express SA appears in the Tobruk Ferry Service. VP SAs are extremely difficult to use in practice, but perhaps a cheap 6 point destroyer with speed-2 could be used in a swarm at 100 points. For example, 10 of these represents 20 VPs. This is worth trying at 100 points sometime just to see what it can do. Scenario gamers will love the history of this unit, making it a positive inclusion, even if not formally a powergame unit. C
page revision: 3, last edited: 14 Mar 2020 16:55