HMS Glowworm
---
Allied Nations
---
Axis Nations
---
Neutral Nations/Installations
---
Sets
Unit Card: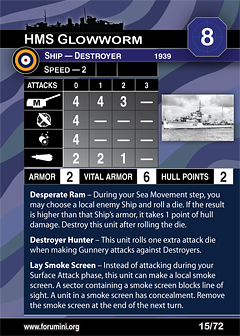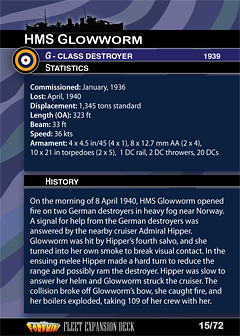 Set - Rarity - Number
First Strike - N/A- 15/72
History:
HMS Glowworm was a G-class destroyer built for the Royal Navy in the mid-1930s. During the Spanish Civil War the ship spent part of 1936 and 1937 in Spanish waters, enforcing the arms blockade imposed by Britain and France on both sides of the conflict. Glowworm was transferred from the Mediterranean Fleet shortly after the beginning of World War II to the British Isles, to escort shipping in local waters. In March 1940, she was transferred to the Home Fleet, just in time to participate in the opening stages of the Norwegian Campaign. On 8 April 1940 Glowworm encountered German destroyers transporting troops to invade Norway in Operation Weserübung. The destroyers attempted to disengage while calling for help from the heavy cruiser Admiral Hipper. Glowworm was heavily damaged by Admiral Hipper, but still attempted to torpedo the German ship. The two ships collided, which broke the bow off Glowworm, and she sank shortly afterwards.
Reviews:
Plastic Figure Notes:
page revision: 1, last edited: 08 Jul 2015 21:03