HMS Indefatigable
---
Allied Nations
---
Axis Nations
---
Neutral Nations/Installations
---
Sets
Unit Card: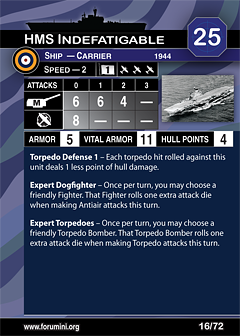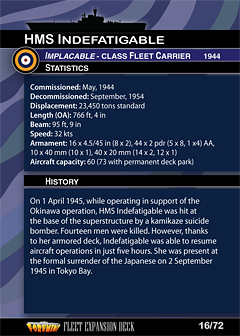 Set - Rarity - Number
First Strike - N/A- 16/72
History:
HMS Indefatigable was an Implacable-class aircraft carrier built for the Royal Navy (RN) during World War II. She was completed in 1944, and her aircraft made several attacks that year against the German battleship Tirpitz, inflicting only light damage; they also raided targets in Norway. The ship was transferred to the British Pacific Fleet (BPF) at the end of the year and attacked Japanese-controlled oil refineries in Sumatra in January 1945 before joining the American forces in March as they prepared to invade the island of Okinawa in Operation Iceberg. Indefatigable and the BPF joined the Americans in attacking the Japanese Home Islands in July and August. Following the end of hostilities she visited ports in Australia, New Zealand and South Africa.
After returning to the UK in early 1946, Indefatigable was modified for transport duties, and ferried troops and civilians for the rest of the year before she was reduced to reserve. She was recommissioned in 1950 as a training ship for service with the Home Fleet Training Squadron, participating in exercises and making several port visits overseas. The Board of Admiralty decided that she was redundant in early 1954 and decommissioned her later that year. Indefatigable was sold for scrap the following year.
Reviews:
Plastic Figure Notes:
The class was quite close in appearance of the Illustrious class, from which you can pick HMS Illustrious or HMS Victorious
page revision: 2, last edited: 08 Jul 2015 21:04