HMS Ledbury
---
Allied Nations
---
Axis Nations
---
Neutral Nations/Installations
---
Sets
Unit Card: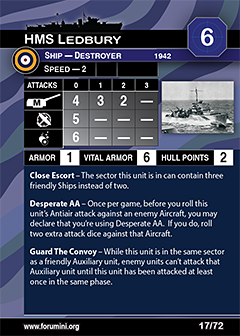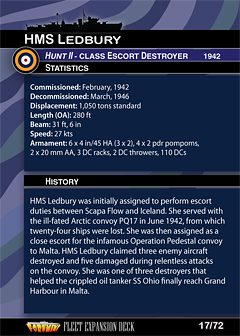 Set - Rarity - Number
First Strike - N/A- 17/72
History:
HMS Ledbury was an escort destroyer of the Hunt class Type II. The Royal Navy ordered Ledbury‍ '​s construction two days after the outbreak of the Second World War and J. I. Thornycroft Ltd laid down her keel at their Southampton yard on 24 January 1940. Air raid damage to the yard delayed her construction and she did not launch until 27 September 1941. Her initial assignment was to perform escort duties between Scapa Flow and Iceland. She remained in this theatre for the first part of the war, during which time she served with the ill-fated Arctic convoy PQ 17 in June 1942, from which twenty-four ships were lost.
Only two months later she took up the role of close escort in the Pedestal convoy to Malta. During the fierce attacks that dogged the convoy, Ledbury claimed three enemy aircraft destroyed and five damaged, and was one of three destroyers that helped the crippled oil tanker Ohio into the Grand Harbour. She added to her battle honours with the Allied landings in Sicily, Salerno, and operations in the Adriatic and Aegean. The Royal Navy finally scrapped Ledbury in 1958.
Reviews:
Plastic Figure Notes:
page revision: 1, last edited: 08 Jul 2015 21:04