HMS Upholder
---
Allied Nations
---
Axis Nations
---
Neutral Nations/Installations
---
Sets
Unit Card: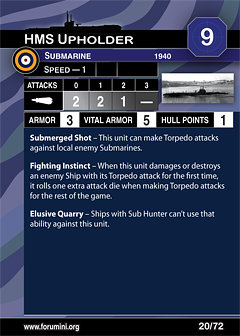 Set - Rarity - Number
First Strike - N/A- 20/72
History:
HMS Upholder (P37) was a Royal Navy U-class submarine built by Vickers-Armstrong at Barrow-in-Furness. She was laid down on 30 October 1939, launched on 8 July 1940 by Mrs. Doris Thompson, wife of a director of the builders. The submarine was commissioned on 31 October 1940. She was one of four U-class submarines which had two external torpedo tubes at the bows in addition to the 4 internal ones fitted to all boats. They were excluded from the other boats because they interfered with depth-keeping at periscope depth.
Reviews:
Plastic Figure Notes:
page revision: 1, last edited: 08 Jul 2015 21:07