HMS Warspite
---
Allied Nations
---
Axis Nations
---
Neutral Nations/Installations
---
Sets
Unit Card: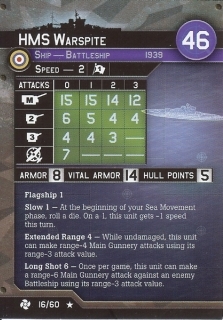 Set - Rarity - Number
Task Force - Rare - 16/60
History:
HMS Warspite was the second Queen Elizabeth Class Battleship built for the royal navy, commissioned in 1915, and took part in the First World War, and the Battle of Jutland and ended her career as one of the most decorated ships ever.
At Jutland Warspite was hit by a shell in her port-wing engine room causing her to steer in a circle and inadvertently draw fire away from the damaged cruiser HMS Warrior. Warspite was holed 150 times, had 14 killed and 16 wounded and would suffer steering irregularities for the remainder of her career. She survived the Second World War only to be taken to the breakers in 1945, an incident during which her towline snapped and she ran aground, prolonging her scrapping five years, Warspite was finally broken up in 1950.
Of note: Warspite made a record setting long range shot, firing at the Italian battleship Giulio Cesare and scoring a hit at 26,000 yards during the Battle of Calabria. While conducting coastal bombardment in support of the Italian campaign Warspite was also crippled by a Fritz X guided missile fired from a Dornier bomber.
Reviews:
Captain Morevo
At 46 Points, Warspite is an excellent mid-range battleship for the inexperienced player, and in the hands of an expert player becomes a tool of undeniable power. Her basic statistics place her barely above (or below) the HMS Hood in many respects, her vital armor is superior, she has a tertiary battery rather than torpedoes, and while she has no fatal flaw, she is slow. Novices will notice that she has no torpedo defense, but for those who know what they're doing, they simply keep her away from those nasty fish. What really makes Warspite shine is Long Shot 6, an insofar unmatched ability that can allow Warspite to make a first turn attack against an enemy battleship on the other side of a standard battle map.
Toronado3800
I find Warspite to be a tricky play. Slow1 can hit at inopportune times and Long Shot 6 is sometimes not as useful while other times it either allows a cross board hit stealing an extended range Special Ability or forces an opponent to move his ships in an inopportune manner. She is a good ship for a relatively low point Battleship heavy build when coupled with Repulse and either another "R" or Queen Elizabeth Class ship or even HMS Roberts.
Plastic Figure Notes:
Warspite's figurine is not of the best quality, and her turrets are well known for suffering from joined and drooping barrel syndrome, as well as having a rather nasty mold to them. The rest of the mold is average, and shows off her lines. A well known and researched method has been to replace the turrets of the Warspite with the ones from a spare Hood, giving Warspite some proper looking turrets, but is more of a custom job than would seem.
page revision: 11, last edited: 21 Jun 2015 06:51