Hr Ms Zvaardvisch
---
Allied Nations
---
Axis Nations
---
Neutral Nations/Installations
---
Sets
Unit Card: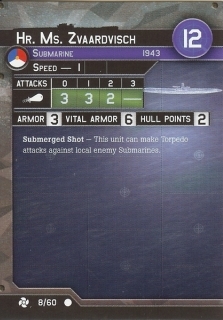 Set - Rarity - Number
War At Sea - Common - 8/60
History:
Like the Van Galen, Zvaardvisch is a British built unit transferred to the Dutch Navy and crewed by Dutch seaman who had escaped the German occupation of their homeland. Zvaardvisch was laid down as the HMS Talent of the T-class of submarines (of which HMS Truculent was also a member). The T-class boats were large in size, allowing them to carry plenty of fuel for long-range patrols far from friendly bases, and also to mount an impressive ten forward firing torpedo tubes. Though they served in all theaters, the T-class excelled when they had plenty of sea room. Zvaardvisch was no exception. Though she only entered service in late 1943, Zvaarvisch found time for a handful of successful patrols in the Far East where she preyed especially on Japan's coastal shipping trade. Also among her bag of kills were a Japanese minesweeper and the German submarine U-168.
Reviews:
swarbs
Why the Zvaardvisch costs just as much as the British Truculent, despite having one less local torpedo and no Run Silent ability, is a mystery. The result of this circumstance, however, is not nearly so mysterious; unless selected out of a sense of Dutch pride, Zvaardvisch may never see the table except in Dutch-only builds.
Kingtiger1945
Zvaardvisch is a good sub, but HMS Truculent has made it obsolete. Truculent costs the same, but it has better torps at range 0 and the Run Silent special ability. To reflect this, Zvaardvisch should cost eleven points rather than twelve.
Plastic Figure Notes:
page revision: 11, last edited: 24 Jun 2016 17:40