Intrepid Hero
Unit Card: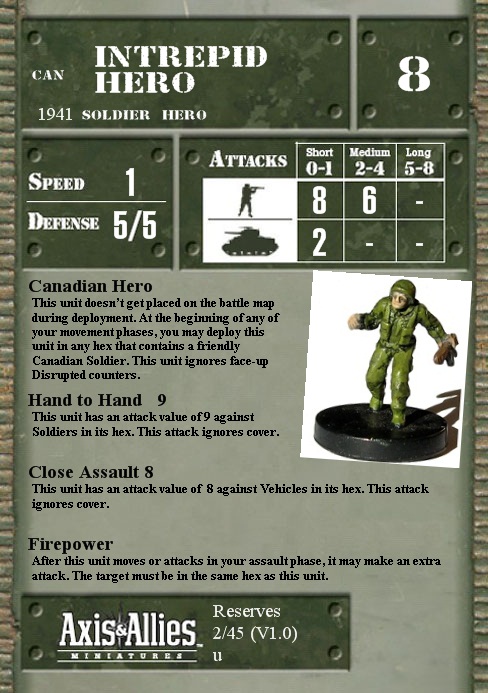 Set - Rarity - Number
Reserves - Uncommon - 2/45
Historical Background
Corporal Léo Major DCM* (1921 – 12 October 2008) was a French Canadian soldier in the Régiment de la Chaudière in World War II. He was one of only three Canadian soldiers to be awarded the Distinguished Conduct Medal and the only Canadian to have been awarded a bar to his DCM. Major was the only person whose DCMs were awarded in two different wars (World War II and Korea)
On the night of 13 April 1945, Major single-handedly liberated the city of Zwolle in the Netherlands from German army occupation. This action earned him his first Distinguished Conduct Medal. He received his second DCM during the Korean War for leading the capture of a key hill.
Major died in Longueuil on 12 October 2008 and was buried at the Last Post Fund National Field of Honour in Pointe-Claire, Quebec. He was survived by: Pauline De Croiselle, his wife of 57 years; four children; and five grandchildren.
- Source Wikipedia
Reviews:
mercenary_moose
One of the more interesting Heroes out there. Clearly, with mediocre ranged attack values and great Hand To Hand/Close Assault values, you'll want to rush him in quickly. And with his 5/5 defense and immunity to disruption, plus Firepower, it's pretty easy. Firepower is a fascinating ability; it gives you the option to either move double speed and still attack someone, or really get freaky and tear up everything in the hex with two attacks. All in all, quite a good piece IMO, although he does require a good deal of strategy to use correctly.
Plastic Figure Notes:
page revision: 3, last edited: 08 Nov 2014 22:23