Hr. Ms. K XVI
---
Allied Nations
---
Axis Nations
---
Neutral Nations/Installations
---
Sets
Unit Card: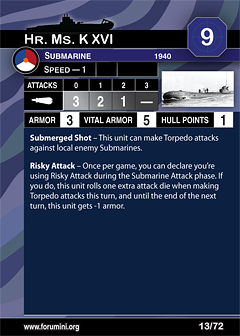 Set - Rarity - Number
First Strike - N/A - 13/72
History:
HNLMS K XVI was one of five K XIV class submarines built for the Royal Netherlands Navy (RNN). Entering service in 1934, the submarine was deployed to the Netherlands East Indies. On 24 December 1941, K XVI torpedoed and sank the Japanese destroyer Sagiri; the first Allied submarine to sink a Japanese warship. A day later, the Dutch submarine was torpedoed by Japanese submarine I-66 off Borneo, with all aboard killed. The wreck of K XVI was rediscovered in October 2011 by a group of recreational divers.
Reviews:
Vergilius Powergaming Evaluation:
The Dutch get a second submarine. Their first submarine was overshadowed by the Truculent, though otherwise solid and appropriate power for 12 points. This submarine introduces a single hull sub similar to the Ambra. Risky attack provides it some flavor to distinguish it from Ambra. B
Plastic Figures Notes
Pendragon68
A miniature in various materials is availble at Shapeways in Driewolf's Depot
page revision: 3, last edited: 08 Jul 2015 20:24