Late 298
---
Allied Nations
---
Axis Nations
---
Neutral Nations/Installations
---
Sets
Unit Card: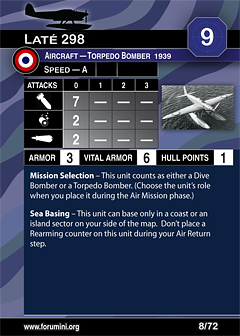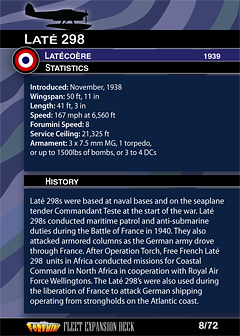 Set - Rarity - Number
First Strike - N/A - 8/72
History:
The Latécoère 298 (sometimes abridged to Laté 298) was a French seaplane that served during World War II. It was designed primarily as a torpedo bomber, but served also as a dive bomber against land and naval targets, and as a maritime reconnaissance aircraft. Of a sturdy and reliable construction and possessing good manoeuvrability, it was France's most successful military seaplane, and served throughout the war in various guises.
Reviews:
Vergilius Powergaming Evaluation:
This torpedo bomber fills the role of a universal loitering patrol bomber such as the Emily or the Sunderland. Sea Basing is the first application to a formal bomber. The previous instance was on the Rufe. This also allows the player to elect to bring several of these and to conduct a formal air swarm, since they don't take up spots on the land-base. In conjunction with the carriers, the Commandante Teste, and prior units that can be placed at the land-base, this could make for a very interesting pure French air build. Sea-basing stands in for loiter. Mission selection allows you to make it a torpedo or dive bomber, and to receive carrier expert bonuses as needed. ASW will be good for suppression, but hardly more. Compared to the Emily and Sunderland, you lose a fairly critical point of armor and vital armor, but only lose a point of cost, so I think the Late 298 is inferior to both in almost all settings. Still it is among the more inventive and wonderful additions to the game and definitely has a key place in French fleets. More generic allied fleets still might find a way to make use of Sea-Basing. Overall Grade: A
page revision: 2, last edited: 14 Mar 2020 18:10