Luigi Torelli
---
Allied Nations
---
Axis Nations
---
Neutral Nations/Installations
---
Sets
Unit Card: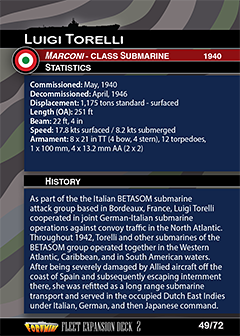 Set - Rarity - Number
Infamy - N/A- 49/72
History:
Luigi Torelli was a Marconi-class submarine of the Italian navy during World War II. The vessel operated in the Atlantic from late-summer 1940 until mid-1943, then was sent to the Far East. After Italy's surrender in 1943, the Torelli was taken over by the German Navy then, in the waning months of the war, the Japanese Imperial Navy. It was one of only two ships to serve in all three major Axis navies, the other being the Italian submarine Comandante Cappellini.
Reviews:
Plastic Figure Notes:
Use Leonardo da Vinci, another Marconi-class submarine.
page revision: 2, last edited: 12 Nov 2015 20:25