Marat
---
Allied Nations
---
Axis Nations
---
Neutral Nations/Installations
---
Sets
Unit Card: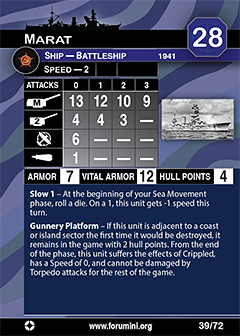 Set - Rarity - Number
Infamy - N/A- 39/72
History:
Reviews:
torpman
This is an interesting ship. It kindly drops Masked Guns of Oktyabrskaya Revolutsia and picks up one simple attack line. The raison d'etre of this unit is Gunnery Platform which is a great SA to have assuming you are playing a game with some of islands, taking the ship up to hull 6. Not a bad ship if you want to change things up a little. It would not be recommended to always bring her, but she serves as a nice support unit, and can even contest/capture objectives while she is a gunnery platform. This makes Marat deadly to submarine builds if played correctly. B
Plastic Figure Notes:
Her sistership Oktybraskaya Revolutsia can stand for her.
page revision: 1, last edited: 13 Mar 2014 22:34