Opel Blitz 3 ton
Unit Card: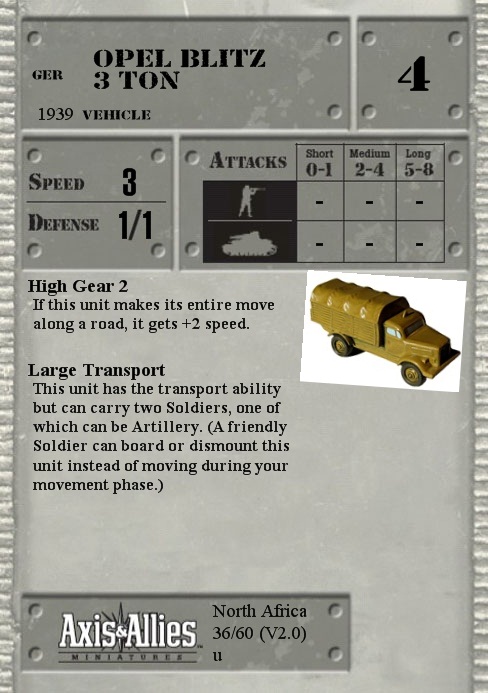 Set - Rarity - Number
North Africa - Uncommon - 36/60
Historical Background:
During the years preceding World War II Opel, a subsidiary of General Motors (GM) since 1929, was Germany's largest truck producer. The Blitz name, found in a prize competition, was first applied to an Opel truck in 1930. In Europe this truck was considered General Motors' contribution to German successes. It is also argued that Opel, a subsidiary of GM, used forced labor to reap unprecedented profits. However, to what degree GM controlled Opel at the time can be argued, but it is clear that GM did in fact play a role in giving Nazi Germany the Opel Blitz truck. From 1939 onwards the reliable Blitz 3,6 3-ton version was used frequently by the German Wehrmacht armed forces throughout World War II. Derived variants included an elongated version, a half track known as the SdKfz 3 "Mule" and the four-wheel drive Blitz A. The design was really good and the production continued up until 1975.
- Source: Wikipedia
As a little bonus…
In 1943, Daimler-Benz had to discontinue the production of their own 3-ton-truck to build the Opel "Blitz" ("Lightning") which was much better suited for use by the army. Since gasoline was already in extremely short supply at that time, vehicles not intended for use by the fighting troops, were equipped with a wood gas generator. The requirement to economize on material is clearly evident from this highly interesting vehicle. The driver's cab is made of cardboard with a skylight in its roof to keep a lookout for enemy aircraft. In back on the platform was a wood gas generator in which wood was carbonised under limited oxygen supply. The wood gas thus generated was channelled to the filter mounted in front and from there to the engine. Gasoline-fuelled the engine generated about 68 hp, with wood gas between 45 and 30 hp, depending on the quality of the wood used.
- Source: http://sinsheim.technik-museum.de/en/en/opel-blitz-3-truck-wood-gas-generator
Reviews:
Plastic Figure Notes:
page revision: 3, last edited: 19 Dec 2014 17:06