Orp Dragon
---
Allied Nations
---
Axis Nations
---
Neutral Nations/Installations
---
Sets
Unit Card: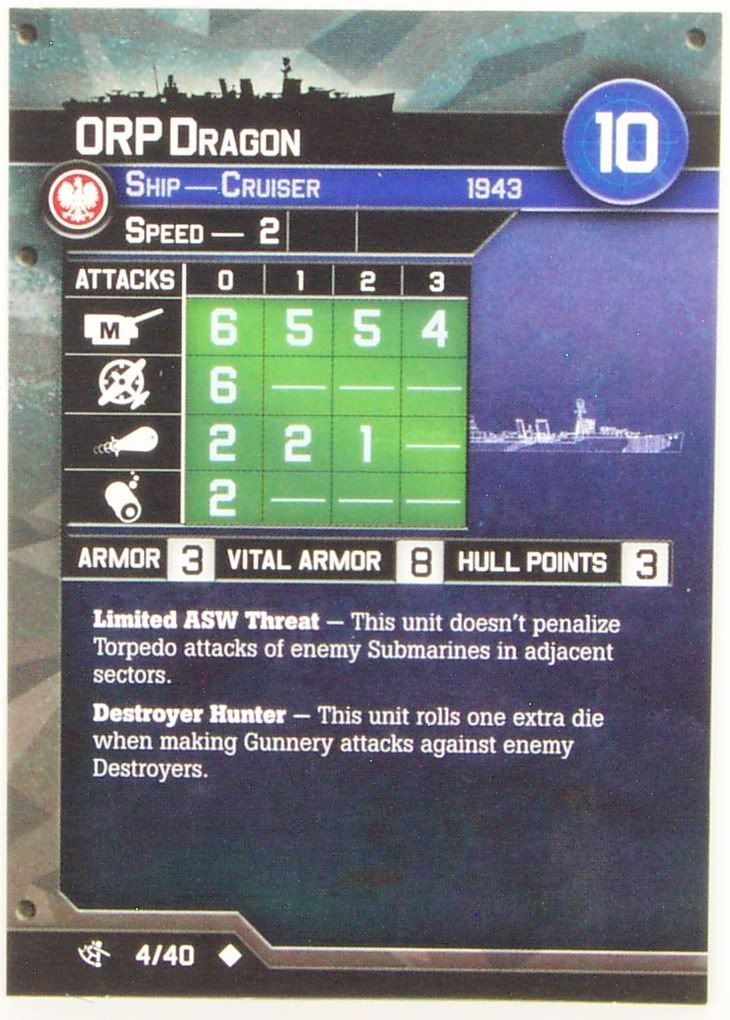 Set - Rarity - Number
History:
Flavor text taken from card:
HMS Dragon served in the Royal Navy for the first three years of World War II. In January of 1943 she was loaned to the Polish Navy forces operation from Britain. As "ORP" Dragon (Okret Rzeczypospolitej Polskiej, meaning vessel of the Republic of Poland), she escorted Murmansk convoys and took part in the D-Day landings. She was badly damaged off Normandy by a German manned torpedo attack on 8 July 1944, and later scuttled as part of the Mulberry artificial harbor.
Reviews:
ORP Dragon is a toolbox, offering a little bit of everything to a force. She has guns, AA, torps and ASW, despite being a cruiser. Destroyer Hunter makes her a beast when taking out destroyers, and she should be able to cripple most DDs before they even get in range with range 3 guns. Treat her like HMS Euryalus; a really powerful destroyer rather than a cruiser.
Vergilius Powergaming Evaluation:
As a light cruiser for 10 points, Dragon is in the company of many light cruisers. Guns, torpedoes and AA are fairly typical, but Dragon also contributes a limited ASW threat. Light cruisers are typically useful for their destroyer-hunting abilities, and Dragon comes equipped with a destroyer-killing SA. This cruiser is not going to alter the game significantly as there are other cruisers that an extended UK fleet can employ that perform these roles better. Powergaming Grade: C-
Plastic Figure Notes:
Supposed to be released in the last set, it was originally out of scale.
page revision: 3, last edited: 08 Nov 2011 15:48