P-38G Lightning
---
Allied Nations
---
Axis Nations
---
Neutral Nations/Installations
---
Sets
Unit Card: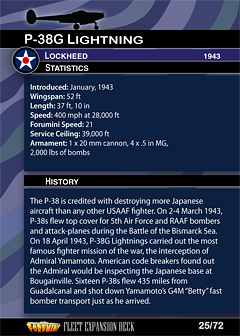 Set - Rarity - Number
First Strike - N/A- 25/72
History:
Reviews:
Brigman
This unit was a major disappointment. It's not a bad card, but it's been overpriced by at least 1-2 points. If this were a 7 point card, or even an 8 point card, it might see some use. As it is? You're better off bringing a Corsair for 10, or 2x P40 for 10, than this thing for 9. If it had 8 AA, it might be worth the points. Not a fan, which is sad considering the potential of the aircraft.
Plastic Figure Notes:
page revision: 3, last edited: 04 Oct 2013 00:03