Panzer Ii Ausf F
Unit Card: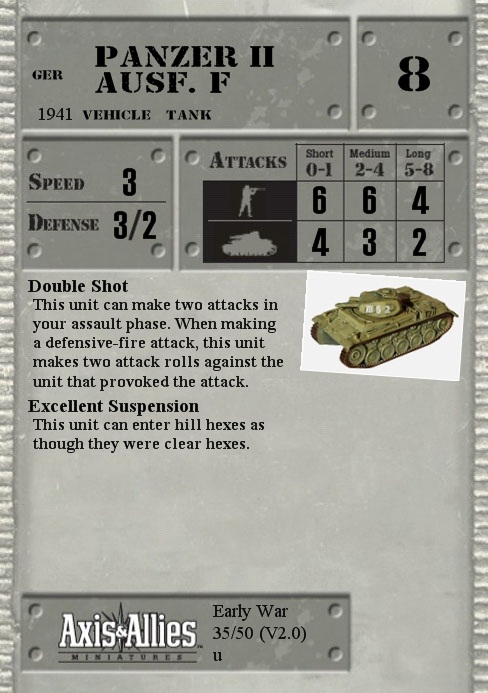 Set - Rarity - Number
Eastern Front - Uncommon - 41/60
Early War - Uncommon - 35/50
Historical Background:
Wartime experienced quickly led to major improvements on the Panzer II, notably its armor, with a new, single-piece frontal 30mm glacis, and a new gun mantlet increased to 30mm, as well as 15mm the sides and rear. A new commander cupola was also fitted, as well as the new KwK 38 20mm gun. Consequentely the weight rose to 9,5 tons, and the power-to-weight ratio fell to 14,7 PS/ton. From march 1941, this version was built into 524 units, until december 1942. This was the last major version, all others were such redesigns that they were only artificially attached to the Panzer II serie… The Ausf F was still a scout tank, with far better survivability that the previous models, but with some sacrifices to the speed. The 20mm was tested successfully with the new tungsten cored solid ammunition round, which increased grealty its antitank capabilities at short range. However, this was in limited supplies.
- Source: www.tanks-encyclopedia.com
Reviews:
Plastic Figure Notes:
page revision: 3, last edited: 22 Nov 2014 18:43