Pby Black Cat
---
Allied Nations
---
Axis Nations
---
Neutral Nations/Installations
---
Sets
Unit Card: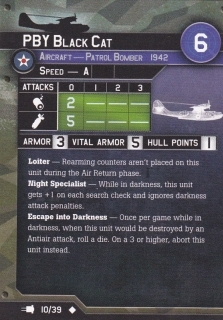 Set - Rarity - Number
Set V - Uncommon - 10/39
History:
Reviews:
anon
A decent Patrol bomber. It loses shadow from its set I incarnation, which is a major blow to it. This unit is best used in night games to find units and to harass submarines. It's SA "Disappear into the Night" proves useful should a fighter group or enemy AA hit the fragile unit.
Aran55633
At 6 points, it's cheap, and it will be pretty useful for night games. Being able to move every turn helps, but its armor is so weak that it should only ever be used against subs or destroyers with VERY weak AA…
Plastic Figure Notes:
A re-sculpt of the venerable PBY Catalina from the first set. Many newer players use it as a proxy for the hard to find PBY Catalina.
page revision: 3, last edited: 22 Aug 2012 22:28