Re.2001 CB Fighter Bomber
Unit Card: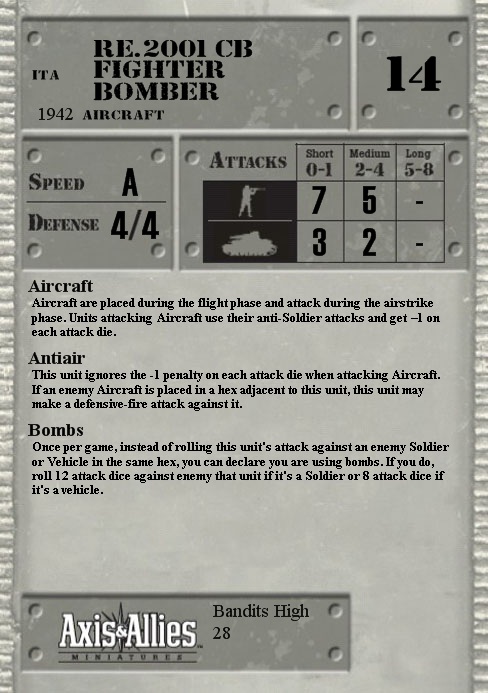 Set - Rarity - Number
Bandits High 5/31
Historical Background:
The Re.2001 CB was a variant of the Re.2001 Serie I modified, to carry 100 or 250 kg bomb under the fuselage for the attack role. This fighter-bomber was produced from 1942. By the end of June, 22° Gruppo based at Rome-Ciampino received their first Re.2001 CBs and redeployed to Monserrato, Sardinia, later to be transferred to Sicily to participate in the raids on Malta.
- Source Wikipedia
Reviews:
Akela152
An interesting airplane. The attack value is low but the Bombs ability makes it worthwhile.
Plastic Figure Notes:
This is an Axis and Allies Air Force Miniature model. They are not the same scale as the planes in AAM but are the same scale as the tanks. The models are all very detailed and well painted.
page revision: 0, last edited: 02 Dec 2014 22:32