Roma
---
Allied Nations
---
Axis Nations
---
Neutral Nations/Installations
---
Sets
Unit Card: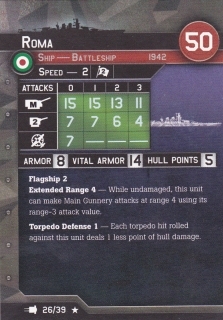 Set - Rarity - Number
V - Rare - 26/39
History:
Roma, named after two previous ships and the city of Rome,[N 1] was the fourth Vittorio Veneto-class battleship of Italy's Regia Marina (Royal Navy). The construction of both Roma and her sister ship Impero was planned due to rising tensions around the world and the navy's fear that two Vittorio Venetos and the older pre-First World War battleships were not enough to counter the British and French Mediterranean Fleets. As Roma was laid down almost four years after the first two ships of the class, some small improvements were made to the design, including additional freeboard added to the bow.
Roma was commissioned into the Regia Marina on 14 June 1942, but a severe fuel shortage in Italy at that time prevented her from being deployed; instead, along with her sister ships Vittorio Veneto and Littorio, she was used to bolster the anti-aircraft defenses of various Italian cities. In this role, she was severely damaged twice in June 1943 from bomber raids on La Spezia. After repairs in Genoa through all of July and part of August, Roma was deployed as the flagship of Admiral Carlo Bergamini in a large battle group that eventually comprised the three Vittorio Venetos, eight cruisers and eight destroyers. Their stated intent was attacking the Allied ships approaching Salerno to invade Italy (Operation "Avalanche") but, in reality, the Italian fleet was sailing to Malta to surrender following Italy's 8 September 1943 armistice with the Allies.
While the force was in the Strait of Bonifacio, Dornier Do 217s of the German Luftwaffe's specialist wing KG 100—armed with Fritz X radio-controlled bombs—sighted the force. The first attack failed, but the second dealt Italia (ex-Littorio) and Roma much damage. The hit on Roma caused water to flood two boiler rooms and the after engine room, leaving the ship to limp along with two propellers, reduced power, and arc-induced fires in the stern of the ship. Shortly thereafter, another bomb slammed into the ship which detonated within the forward engine room, causing catastrophic flooding and the explosion of the #2 main turret's magazines, throwing the turret itself into the sea. Sinking by the bow and listing to starboard, Roma capsized and broke in two, carrying 1,253 or 1,393 men—including Bergamini—down with her.
Roma was of a slightly improved design over the 2 earlier sister ships,Bow shape and AA placement, but these modifications are not reflected in the stats for W@S.
Reviews:
anonymous
Essentially this is a Vittorio Veneto with flag 2 for 1 point more…not a bad deal, if you want a flagship.
ROUS
An essential ship for the RM, as it is the only flag 2 heavier than the Gorizia. It may very well be that the 2 flag points will not be as important as the sharpshooter ability the Littorio brings for the same 50 points.
page revision: 8, last edited: 17 Dec 2015 14:46