Royal Engineers
Unit Card: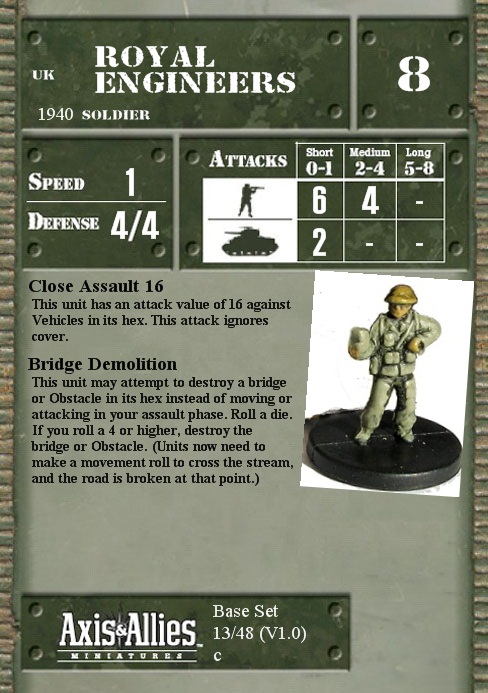 Set - Rarity - Number
Base Set - Common - 13/48
History
The RE's has been involved in every major conflict the British Army has fought and has ever since lived up to its Motto "Ubique" ("Everywhere").
The Corps of Royal Engineers has a long heritage that not many corps can rival. They were the direct descent from William the Conqueror's Military Engineers who were directed in 1066 by Humphrey de Tilleaul.
By the end of the Peninsular War in 1814 there were five companies serving with Wellington's Army.
In 1856, the Corps of Royal Sappers and Miners were amalgamated with the Corps of Royal Engineers. The rank of 'Private' in the newly formed Corps of Royal Engineers was changed to 'Sapper' and still exists today.
Before the Second World War, Royal Engineers recruits were required to be at least 5 feet 4 inches tall (5 feet 2 inches for the Mounted Branch). They initially enlisted for six years with the colours and a further six years with the reserve or four years and eight years. Unlike most corps and regiments, in which the upper age limit was 25, men could enlist in the Royal Engineers up to 30 years of age. They trained at the Royal Engineers Depot in Chatham or the RE Mounted Depot at Aldershot
Maybe the most, greatest achievements of the RE's were the construction and operation of the Mulberry Harbour its support for the Battle of Normandy 1944.
- Source Force War Records
Reviews:
Akela152
A very specialised unit. Of all the differents engeineers in the game, it has the most AV dices. Think of it as a PIAT with some defensive abilities against infantry. Very good in dense environnements. They are almost mandatory to clear obstacle. However, the United Kingdom also have the excellent Churchill AVRE fot that job.
Plastic Figure Notes:
page revision: 3, last edited: 07 Nov 2014 00:34