Sea Gladiator
---
Allied Nations
---
Axis Nations
---
Neutral Nations/Installations
---
Sets
Unit Card: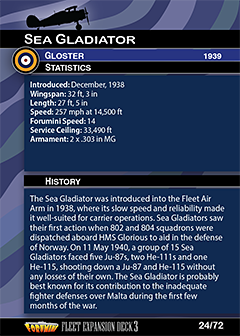 Set - Rarity - Number
Battle Line - N/A - 24/72
History:
Reviews:
Lobukia
azrael
Funny enough I think I was the one who first mentioned Bi-plane overstack in regard to the biplanes, while the stats are as weak as you would expect for 3 points this plane can fill many roles such as tying up CAP, chasing down all those 3 armor german aircraft that now exist in the game, cheap air placement fodder etc. In higher point air dominated games at least one of these will be a must I think.
3 Stars
Plastic Figure Notes:
montyburns1982
swordfish make cheap proxies and paint up well.
page revision: 3, last edited: 28 Apr 2014 21:23