Shinano
---
Allied Nations
---
Axis Nations
---
Neutral Nations/Installations
---
Sets
Unit Card: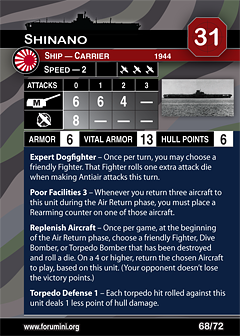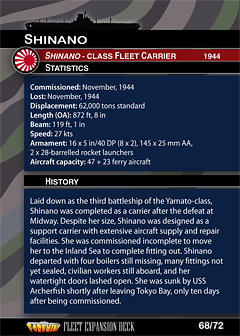 Set - Rarity - Number
First Strike - N/A- 68/72
History:
Shinano (信濃?), was an aircraft carrier built by the Imperial Japanese Navy (IJN) during World War II, the largest such built up to that time. Laid down in May 1940 as the third of the Yamato-class battleships, Shinano‍ '​s partially complete hull was ordered to be converted to a carrier following Japan's disastrous loss of four fleet carriers at the Battle of Midway in mid-1942. Her conversion was still not finished in November 1944 when she was ordered to sail from the Yokosuka Naval Arsenal to Kure Naval Base to complete fitting out and transfer a load of 50 Yokosuka MXY7 Ohka rocket-propelled kamikaze flying bombs. Hastily dispatched, she had an inexperienced crew and serious design and construction flaws, lacked adequate pumps and fire-control systems, and did not even carry a single carrier aircraft. She was sunk en route, 10 days after commissioning, on 29 November 1944, by four torpedoes from the U.S. Navy submarine Archerfish. Over a thousand sailors and civilians were rescued and 1,435 were lost, including her captain. She remains the largest warship ever sunk by a submarine
Reviews:
Aran55633
Stats seem odd, considering this unit's service history. I suppose this unit is meant to depict the unit as it "would have been" had it finished its outfitting and all.
As it is, I'm not sure how I feel about it. The defense is fantastic, and the Replenish Aircraft SA is very nice, but I am left questioning how useful a 31 point carrier with what is essentially a cap of 2 really is.
Plastic Figure Notes:
page revision: 4, last edited: 15 Aug 2018 01:16