SS Panzer IV Ausf. F2
Unit Card: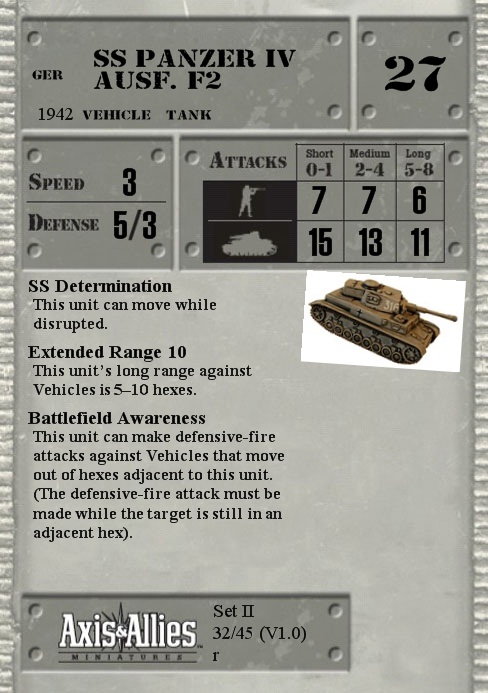 Set - Rarity - Number
Set II - Rare - 32/45
Historical Background:
The II SS Panzer Corps was formed from 2nd SS Panzer Division Das Reich and 9th SS Panzer Division Hohenstaufen in July 1942 in Bergen, Netherlands as "SS-Panzer-Generalkommando". The corps served as a skeletal formation, overseeing the reorganization and restructure of Waffen SS combat divisions in the area of Toulon, France.
In early February 1943, the corps was ordered to join Generalfeldmarschall Manstein's Army Group South in Ukraine where it was to become known very simply as the "SS Panzer Corps". SS-Gruppenführer Paul Hausser, the ex-commander of the Das Reich Division, was placed in charge of the corps, and was tasked with defending the strategic city of Kharkov. After defending the city for as long as possible, Hausser disobeyed Adolf Hitler's orders and told his troops to abandon the city to avoid encirclement. In the remaining weeks of February, the SS Panzer Corps was almost entirely responsible for the destruction of Mobile Group Popov, the major Soviet attacking force. The destruction of Mobile Group Popov halted the Soviet offensive which followed the Battle of Stalingrad and stabilized Manstein's front. After regrouping, the SS Panzer Corps became the Schwerpunkt of Manstein's counter-offensive and distinguished itself in the fighting to recapture the city and surrounding area, advancing as far as Belgorod.
- Source: Wikipedia
Reviews:
6thLyranGuard
The addition of SS Determination and Battlefield Awareness aren't worth the extra price tag over the standard F2.
Plastic Figure Notes:
page revision: 2, last edited: 25 May 2015 04:56