Staghound
Unit Card: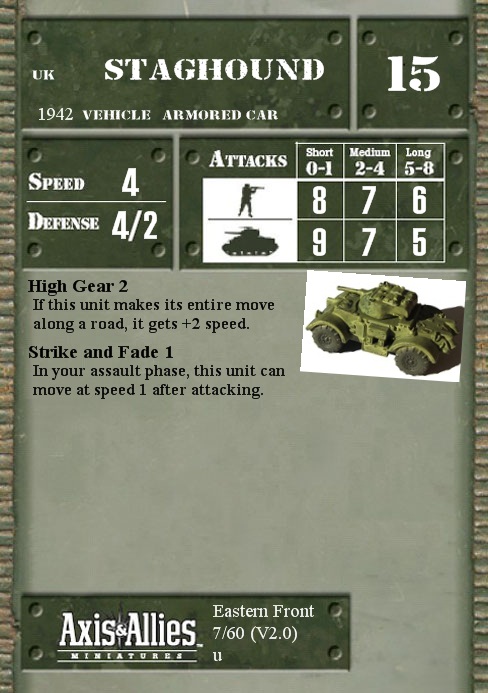 Set - Rarity - Number
Eastern Front - Uncommon - 7/60
Historical Background:
The T17 and the T17E1 were two American armored car designs produced during the Second World War. Neither saw service with frontline US forces but the latter was supplied, via the United Kingdom, to British and Commonwealth forces during the war and received the service name Staghound.
The Staghound entered service too late for use in the North African Campaign where its combination of armor, range and main armament would have been an advantage in a light forces reconnaissance role. As a result, it first saw operational service in Italy, where many units found its large physical size too restrictive in the narrow roads, and streets of Europe. It saw most service at squadron and regimental headquarter level; an armoured car regiment having three Staghounds with the Regimental HQ and three with each HQ of the four squadrons in the regiment. Conditions for the Staghound improved when the Italian campaign became more mobile in the middle of 1944, and the Staghound was also used in north-west Europe campaign.
Reviews:
Plastic Figure Notes:
page revision: 3, last edited: 20 Nov 2014 16:10