Strasbourg
---
Allied Nations
---
Axis Nations
---
Neutral Nations/Installations
---
Sets
Unit Card: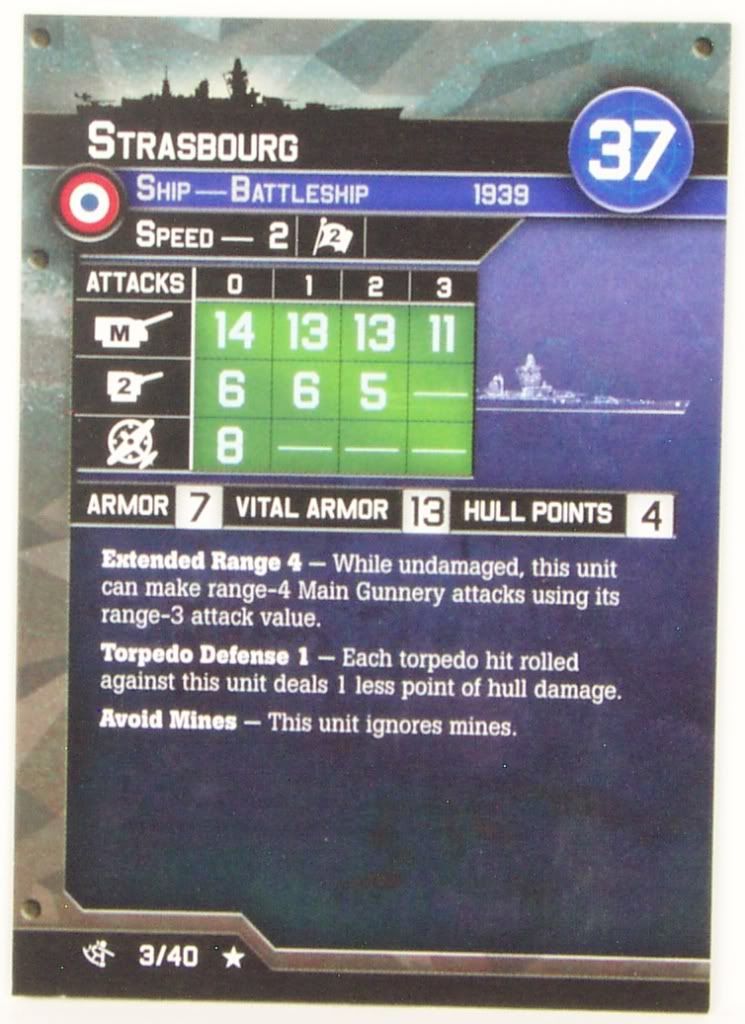 Set - Rarity - Number
Surface Action - Rare - 3/40
History:
On 3 July 1940, Strasbourg escaped from the tragic British attack on the French base of Mers-el-Kebir in Algeria, fleeing to Toulon. There she became the flagship of the Vichy fleet until 27 November 1942, when the Germans attempted to seize the French ships. Rather than allow their ships to fall into German hands, the French navy scuttled 77 vessels, including Strasbourg. The Italians and Germans refloated her and attempted repairs, but she was sunk a second time on 18 August 1944 by US bombers.
-Taken from flavor text on card.
Reviews:
Once again, the French gain only a single unit. However, this unit is a great addition its already formidable navy. Stat-wise, its exactly the same as her sister ship, Dunkerque, costing a point more and trading in excellent spotting for 2 flag and Avoid Mines. The 2 flag on is an awesome addition, compared to the 1 flag on Algerie and none on Richelieu.
Vergilius Powergaming Evaluation
The Dunkerque was always an excellent unit, and the Strasbourg should prove equally up to the challenge. For one additional point, you pick up a Flag-2 and the ability to avoid mines. Flag-2 is an excellent addition to the French fleet, and more durable on a battleship than a smaller ship. Mines are not always a huge threat, but any ability to avoid them is certainly a plus. But Strasbourg also loses the interesting French SA "Excellent Spotting." Still you can always fire Strasbourg first and use its guns to trigger the Excellent Spotting SA on the Richelieu or French Cruisers. There are times when you'll want the cheaper Dunkerque, but plenty of times the Strasbourg will be an excellent buy. Powergaming Grade: A
Aran55633
For 37 points, this is an excellent battleship. She compares fairly well to battleships of her own price range. Compared to the Dunkerque, she doesn't have Excellent Spotting (which is an unfortunate loss, as it means that she will often have weaker attacks than her sister ship), but she gains a flag value of 2 and is one point more; everything else is the same. Each will have their uses.
Plastic Figure Notes:
Reprint of Dunkerque
page revision: 7, last edited: 12 Sep 2013 00:37