Taiyo
---
Allied Nations
---
Axis Nations
---
Neutral Nations/Installations
---
Sets
Unit Card: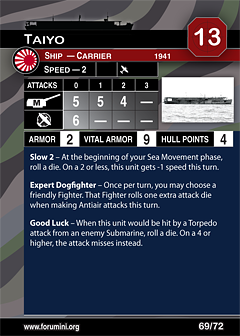 Set - Rarity - Number
First Strike - N/A- 69/72
History:
Taiyō was one of three ocean liners converted to troopships during World War II. She became the lead ship of further conversion to the Taiyō-class of escort carriers operated by the Imperial Japanese Navy. They were initially used to transport short-range aircraft to distant Pacific island air bases, and for training pilots to land on conventional aircraft carriers. They were later used to provide anti-submarine warfare aircraft protection for convoys of merchant ships; and all were sunk by submarines.
Reviews:
Plastic Figure Notes:
page revision: 1, last edited: 11 Oct 2015 19:43