Terutsuki
---
Allied Nations
---
Axis Nations
---
Neutral Nations/Installations
---
Sets
Unit Card: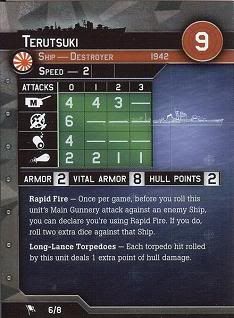 Set - Rarity - Number
Starter - Common - 6/8
History:
Reviews:
Supermini
Similar to the Akitsuki the Terutsuki goes even cheaper at 9pts, has a 6die AA rating and retains the 8 vital armor. Finally giving the Japanese a cheaper destroyer with decent AA. For one turn using its "Rapid fire" SA the Terutsuki can even outgun all the other Japanese destroyers. I will definitely be taking this DD for my fleet.
Plastic Figure Notes:
Supermini
She's not really a nice piece to look at.
page revision: 4, last edited: 25 Aug 2011 23:45