Tsushima
---
Allied Nations
---
Axis Nations
---
Neutral Nations/Installations
---
Sets
Unit Card: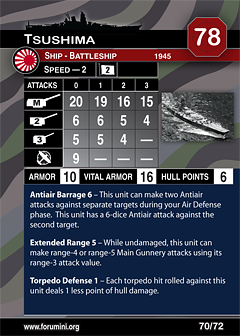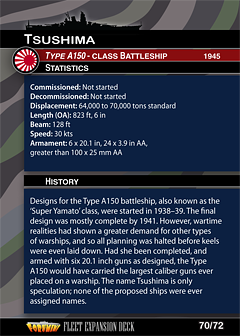 Set - Rarity - Number
First Strike - N/A- 70/72
History:
Design A-150, also known as the Super Yamato class, was an Imperial Japanese plan for a class of battleships. Begun in 1938–39, the design was mostly complete by 1941. However, so that a demand for other types of warships could be met, all work on Design A-150 was halted and no keels were laid. Authors William H. Garzke and Robert O. Dulin have argued that Design A-150 would have been the "most powerful battleships in history" because of the massive size of their main battery of six 510 mm (20 in) guns as well as numerous smaller caliber weapons.
Reviews:
Brigman
The only reason this unit is even needed was the dubious inclusion of Montana in Set VI. That said, she provides a late-war option for the IJN to keep them on top of the BB heap.
Plastic Figure Notes:
page revision: 5, last edited: 28 Dec 2020 15:28