Type 89b Chi Ro
Unit Card: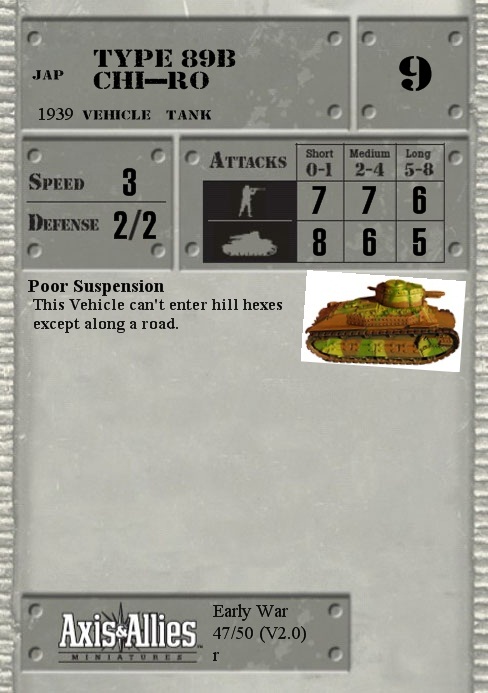 Type 89B Chi-Ro-Cost 9-1939
Speed 3
Def 2/2
AI 7/7/6
AV 8/6/5
SA-Poor Suspension
Set - Rarity - Number
Early War - Rare - 47/50
Historical Background
The Type 89 medium tank I-Go (also known as Chi-Ro) was a medium tank used by the Imperial Japanese Army from 1932 to 1942 in combat operations of the Second Sino-Japanese War, at Khalkhin Gol against the Soviet Union, and in the Second World War.
The Type 89A was superseded in production from 1934 by the Type 89B (also known as Otsu) with an air-cooled Mitsubishi A6120VD 120 hp diesel engine. The improved model had a new gun turret design complete with a cupola for the commander, and with the machine gun relocated to the left side of the hull. The multiple armor plates of the front hull were replaced by a single shallow-sloped frontal armor plate which provided more protection for the driver. However, the major difference between the versions was the Mitsubishi air-cooled 6-cylinder diesel engine, which had several advantages: reduced vulnerability to fire should the vehicle be hit or roll over; better fuel economy; greater torque at lower revolutions. A diesel engine was also preferred by the Japanese Army because more diesel fuel than gasoline could be produced per barrel of oil. A total of 189 Otsu units were produced. The Type 89B Otsu version was the first mass-produced tank with a diesel engine.
Reviews:
Akela152
A unit ruined by it's price. There is no reason to take this unit over any other unit. It is suppose to be an improvement over the Type 89a Chi Ro but at 9 points mean that the Type 89b is now one point more expensive then the Type 95 Ha Go which has a better gun (+0/+1/+0 against vehicles), better suspension and the Forest camouflage SA.
Plastic Figure Notes:
Good looking mini with a nice jungle camouflage paint-job.
page revision: 3, last edited: 10 Nov 2014 14:17